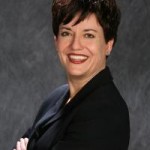 Kelly J. Brough, Chairperson
President and CEO
Denver Metro Chamber of Commerce
1445 Market Street
Denver, Colorado 80202
Kelly J. Brough is the president and CEO of the Denver Metro Chamber of Commerce. The Chamber represents approximately 3,000 businesses and their 300,000 employees in Colorado.
Prior to joining the Chamber, Ms. Brough served as chief of staff for the City and County of Denver and Mayor John Hickenlooper overseeing a general fund of $857 million. Kelly also served as deputy chief of staff and director of the Denver Office of Accountability and Reform for the City. In this role, Kelly's key responsibilities were to implement the new 3-1-1 customer service system and create an organizational culture that embraces performance management and continuous improvement. She was also the director of human resources for the City of Denver. She successfully moved the human resource department from an authoritarian culture to one based on service delivery and focused on outcomes. During her two years in this role, she led significant reforms including moving the City to a full pay-for-performance system and establishing the City's first bonus plan program. Ms. Brough also directed an internationally recognized leadership program at the University of Colorado at Denver— the Rocky Mountain Program. She served as a consultant to many local governments facilitating decisions, managing large public processes and comprehensive planning efforts, mediating disputes and providing strategies to build stronger public/private partnerships. This work took her to Hungary (working with 50 local mayors) and allowed her to work with a number of local governments throughout Colorado and the west.
Ms. Brough earned a master's of business administration degree from the University of Colorado at Denver in 1989 and a bachelor's degree in sociology, criminal justice from Montana State University in 1986. She currently serves on the boards of the Denver Metro Chamber Leadership Foundation, VISIT DENVER, Goodwill Industries of Denver, the Denver Public Schools Foundation, and as a member of the Women's Forum and The Chamber 100 with the U.S. Chamber of Commerce. Kelly was recently named as one of Colorado's 10 most influential women by The Denver Post, and one of Denver's most influential people by 5280 Magazine. In 2012, Ms. Brough received the University of Colorado Denver Campus Alumni Recognition Award. She has attended a number of leadership programs including the JFK School of Government's program at Harvard for state and local public officials. She was also named an American Marshall Memorial Fellow in 2001.